VPN
Table of Contents

The AnyDesk VPN creates a private network between local connecting and remote clients.
It is not possible to access devices on the remote client's local network or vice versa.
Note: The AnyDesk VPN is currently available on installed macOS, Linux, and Android clients.
Start a VPN connection
The AnyDesk VPN can be started directly through the VPN button in the main window by entering the ID/Alias of the remote device and pressing "VPN" instead of "Connect".

VPN Settings
AnyDesk VPN is automatically configured, but the configuration for starting IP-address and subnet mask can be changed in the settings dialog if needed.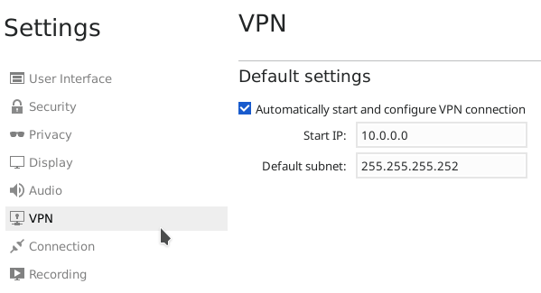 Use Cases
After successfully connected over VPN, the following Programs can be used over VPN.
SSH
Access the Remote Device over SSH
Gaming
Access a LAN-Multiplayer Game over the Internet