Available for users with Standard, Advanced, or Ultimate (Cloud) license.
---
All changes made from my.anydesk II to authorized clients are securely signed with a Private Key.
To unlock all Central Management features, first, you need to generate a Private Key, download and copy it, and then provide the Private Key in my.anydesk II after every login when you want to use the features. For more information about the Private Key, see this article.
You can view whether Central Management is activated in my.anydesk II in the upper-right corner near the notification bell:
To activate Central Management:
Log in to my.anydesk II and go to the Organization.
In the General section, click Edit and then turn on the Dynamic Management toggle.

Go to Dashboard, click Generate Private Key.
In the Save Private Key window, download and copy the Private Key, select the checkbox and then click Continue.

🚨 The Private Key is only generated once and cannot be recovered if lost. Please make sure it's securely stored.

Go to the Activate Client Management window, click Provide Private Key.
In the opened window, paste the Private Key and click Continue.
After the Central Management was successfully activated, you will see

in the upper-right corner of the Dashboard. You will need to provide the Private Key each time you log in to my.anydesk II and want to use Central Management features.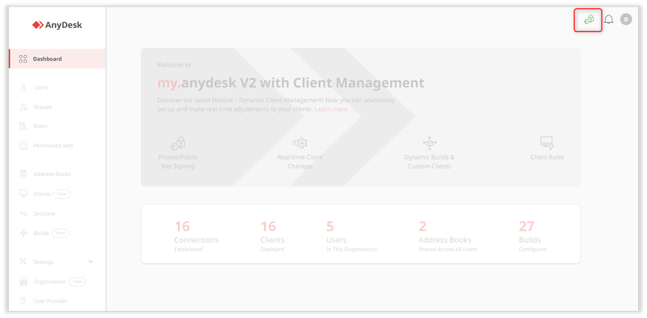 Now, you can use Central Management features, such as editing custom builds or specific clients without redeployment, creating your default client configurations and more.