AnyDesk provides quick access to one of the most powerful remote desktop solutions on the market on iOS, iPadOS, and tvOS devices. In combination with our ground-breaking technology, iOS, iPadOS, and tvOS devices have access to a fully cross-platform remote desktop tool that is lightweight in terms of space and resource usage but does not compromise on speed or quality.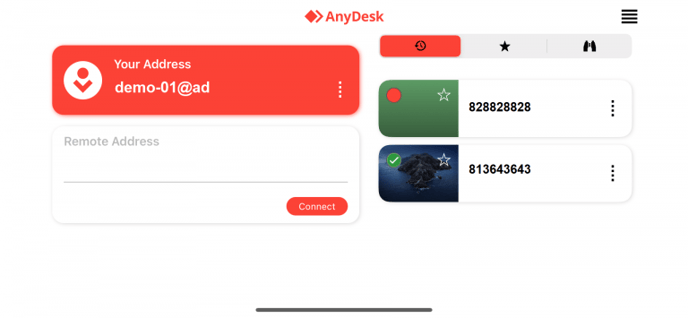 System Requirements
AnyDesk is compatible with iOS 11.0, iPadOS 13.0, tvOS 11.0 and newer.
Remote viewing iOS devices is possible with iOS 12.0, iPadOS 13.0, and newer.
Remote viewing tvOS devices is not possible at this time.
Warning: Due to vendor restrictions, remote controlling iOS, iPadOS, and tvOS devices is not currently possible.
Session Menu
During a session, the Session Menu can be shown by swiping from the left edge of the display to the right or vice versa.
This menu can help users control all aspects of their session ranging from changing the transmission quality to disconnecting the session.
Session Settings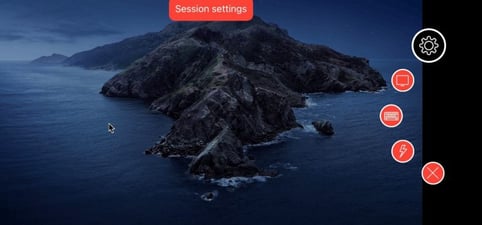 Within the session settings, users can configure:
Transmission quality
Enable or disable the ability to control the remote device
Enable or disable the ability to synchronize the clipboard between the iOS/iPadOS/tvOS and the remote device
Block the remote user from interfering with your actions
Choose the input method (direct touch or touchpad mode)
Enable or disable screen privacy mode
Show or hide the remote cursor
Select remote monitor
If the connected device has multiple displays, users can switch between the various displays from here.
Show keyboard
This option will show the virtual keyboard to help interact with text fields and shortcuts on the remote device.
The upper right corner of the virtual keyboard allows users to hide the virtual keyboard.
The upper left corner of the virtual keyboard allows users to switch to the "special" keyboard which contains operating-system-specific keys such as F-keys or CTRL.
Actions
The Actions menu provides additional features for the user such as:
Send a CTRL+ALT+DEL command to the remote Windows device
Take a screenshot
Show the remote device's system information
Start and stop the session recording
File Transfer
Please see File Manager and File Transfer.
Send Support Information
If encountering errors or a crash on AnyDesk for iOS, iPadOS, or tvOS, please send us the trace files as well as a description of the issue. To do so, please:
While in the main AnyDesk window, open the menu
Select "About AnyDesk"
Select "Open AnyDesk log"
Tap "Send Email" in the upper right corner of the display