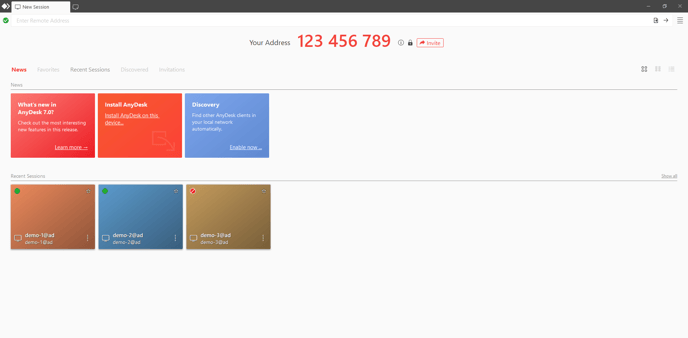 The main window of AnyDesk consists of 6 main components:
Your Address: This field contains the AnyDesk-ID or Alias of the AnyDesk client. Next to this field, you can find shortcuts to set up or manage your Unattended Access passwords as well as methods to send invitations to users you would like to connect to you.
News: This field contains useful information regarding AnyDesk from what is new in this version of AnyDesk to whether there is a new version of AnyDesk available (depending on the update settings).
Favorites: This list contains a list of all favorited AnyDesk clients (marked with a gold star). It is recommended to favorite AnyDesk clients you regularly connect to easily locate them.
Recent Sessions: This list contains a list of all AnyDesk clients this client has successfully connected to. Favorited AnyDesk clients will also be at the top of the list.
Discovered: This list contains all AnyDesk clients on the same local area network as the AnyDesk client. See Settings.
Toolbar: This component consists of:

Remote Access: Fill out this field with the AnyDesk-ID or Alias of the AnyDesk client you wish to connect to.
Typing into this field will also search through the AnyDesk entries in Discovery, Favorites, Recent Sessions, and Address Book. If available, use the arrow key or the mouse cursor to select the AnyDesk client you wish to connect to from the list.
Menu: Here you can access:

your AnyDesk settings,
set an unattended access password,
access your Address Book,
view session recordings,
change your license,
access the Help Center, as well as
view information regarding your AnyDesk client such as version and license.
For 3. Favorites, 4. Recent Sessions and 5. Discovered, right-clicking a client entry in the list will produce a context menu with the following options:
Connect to the client
Start a File Manager session with the client
Add/Remove from Favorites
Set up TCP-tunneling
Add to Address Book
Create a Desktop shortcut
Apply an individual name to the client entry. Please note that this name is only visible locally on the device and does not affect the AnyDesk-ID or Alias.
Remove the client entry from the list
The client entries in the lists above can also be dragged to the Favorites list or Address Book.
The aforementioned lists also have multiple view types: