Table of Contents
Session Security
All sessions are secured using TLS1.2 with AEAD.
The connection type, enforced encryption mode, client verification status, and fingerprint can be found by the

in the AnyDesk toolbar.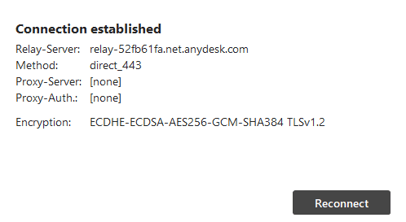 Security Features for the Client
The custom client provides a variety of configurable security settings. For details, see Customize AnyDesk and Settings.
Exclusive unattended access: Access to the client solely by providing the unattended password. See Exclusive Unattended Access
Salted password hashing: AnyDesk uses secure salted hash tokens for password transmission.
Two-factor authentication: Connection attempts to the client using unattended access can be secured using two-factor authentication. See Two-Factor Authentication.
Access Control List
See Access Control List.
On-Premises
For environments with high-security demands, AnyDesk provides the self-hosted On-Premises solution.
Fully operational even in offline networks with full control over all data. See AnyDesk On-Premises for more information.
Offboarding
While we cannot say what methods will fit your needs, we can give you some recommendations on what to do if an employee with AnyDesk access leaves.