Could not send authentication request to identity provider.
If you encounter an error message while attempting to log in with SSO in my.anydesk II, it may indicate that the IDP link between my.anydesk II and your IDP provider was not configured correctly. We recommend that you promptly contact your organization's administrator to address the issue.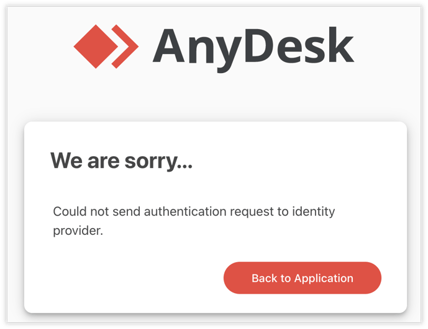 Error message
To restore access to your account:
Log in to my.anydesk II using the ownership credentials of your Enterprise or Ultimate account.
Navigate to the Dashboard tab and in the Organization Administration View section, click Go To Organization Login. You will be redirected to the organization login page.

Log in using an administrator account for your organization.
Go to the Organization tab to resolve any IDP setup issues that may exist.